Your wedding day is a BIG deal, so you want excellent photos of the time, right?
Listen to your hired professionals. A well chosen planner is your friend and will make suggestions that will benefit you in the big picture. As your photographer, we will listen to your ideas and desires, provide you with our input so that we come away from your wedding with the images that you want.
Meet with the the pros that request such a meeting. Hughes Photographics meets with 90% of our couples prior to their wedding simply to get to know one another, go over details, time-line and to understand their thought. Through discussion or seeing a photo of ours, a light will go off and the client realizes an important point which otherwise might be forgotten. Hearing about details, those involved, your family, etc. helps us understand more about you and your day. Give us a clue!
It may sound obvious, but a critical step in achieving great wedding photography in Hawaii is to wear sunscreen every minute you are out in the sun prior to the day of your wedding. Even if you tan well, it is very easy to burn on the islands creating stripes that don't line up with your gown, making you uncomfortable and does not make for great photography!
Keep in mind that this is not a mainland wedding. Black tuxedos and cathedral length gowns are not ideal for a beach wedding. Unless you are constantly in an air conditioned environment, which you will not when getting married on Maui, consider something a bit less formal and HOT. Individuals wearing tuxedos will be subjected to a slow steam effect and in this case, the photography will not lie!
It may appear that things run on Maui time, but that is not when it comes to our business and your wedding. You want to be familiar with and adhere to the established time-line. The professional photographers on Maui are expected to creat great photography in a short time frame, but it is best to not shorten that period by running behind schedule. There is a window leading up to sunset where the light is the most desirable. If ceremony starts late, every aspect of the event is pushed later, and the time the photographers will spend with the couple is shortened. Less time, less great photography.
Bridal Hair and Makeup. Even though you are more than capable of prepping yourself, should you take on that the day of your wedding? You came to Hawaii to enjoy and be photographed in the incomparable environment, correct? If you have any hair length to speak of, your hair needs to go up. The wind can be an issue and cause problems with your photography. Do you have the skills to do a nice up-do? Do you want to deal with a new hair style on the day of your wedding? Regarding makeup, there is no need to go over the top. An experienced make-up artist knows when to stop so that your features are enhanced, but the make up does not become excessive. The pro will know how to make you look even more radiant for your photography.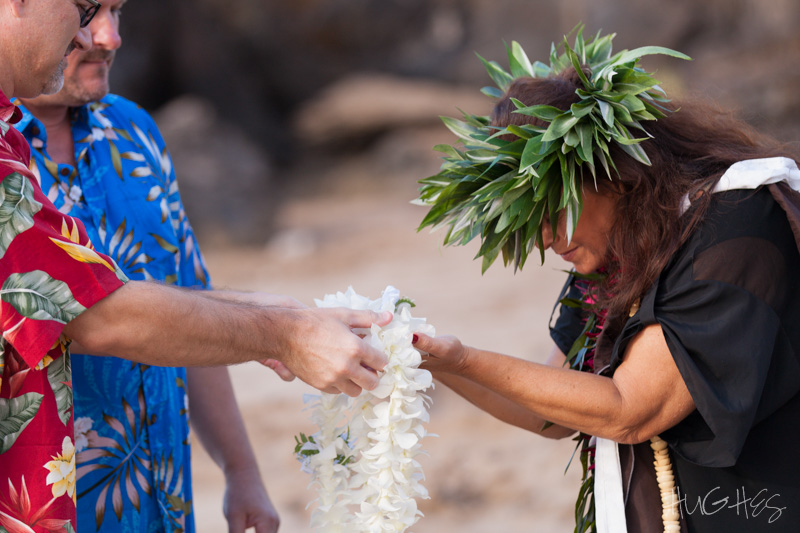 If possible, arrive and become familiar with the site of your wedding site a few days before your date. If for no other reason than to lessen the stress the day of the wedding when you are trying to figure out where to park, where to go, etc. Your photographer will have specific ideas as to where to photograph, but you may see an aspect that appeals to you. Take a look before you are the bride.
It may be difficult with all of the excitement, but do try to get a good nights sleep on the eve of the wedding. Eat well the day of your wedding and be plenty hydrated when ceremony time arrives. People photograph better when they are well rested and feeling their best.
Delegate! That means, as a bride you should not be in charge of much of anything besides your well being on that day. The planner will carry the much of the load, but the responsibility of most personal aspects should be handed over to your friends and family. They will be less busy as you and more suited to deal with small details. You are to enjoy the day and become married! Again, a less stressed person photographs better than an individual trying to arrange and organize details of her wedding day. All of this applies to the groom as well!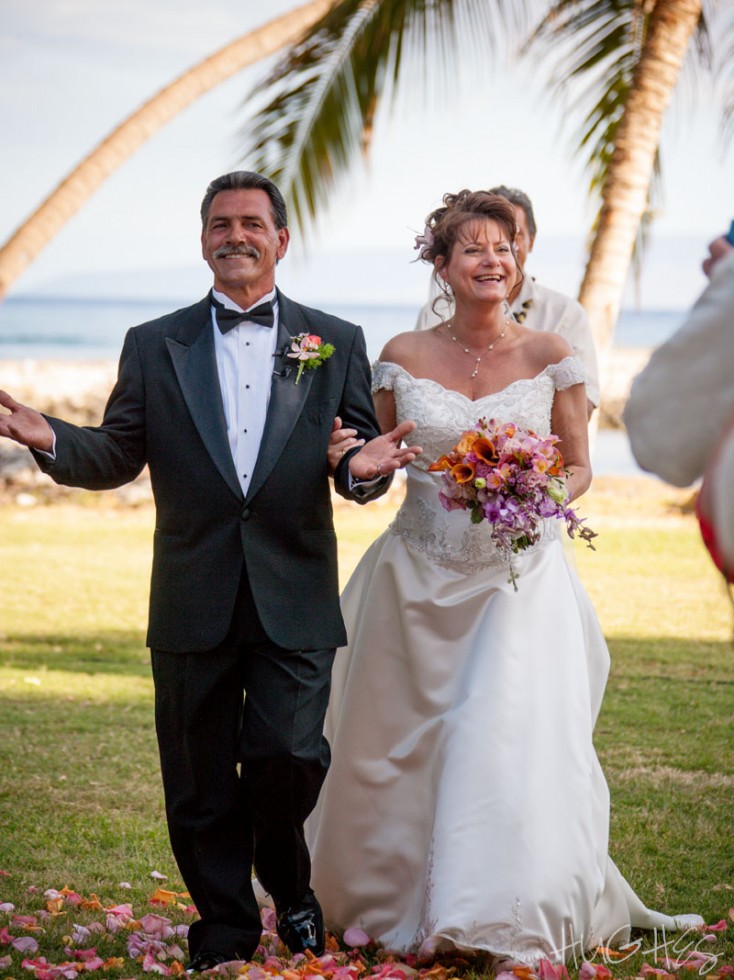 Lastly. Communicate! Everyone involved needs to be on the same page leading up to the day so that there are no surprises and all goes as planned (and dreamed of!)
In brief… Interview, hire and sit down to talk with the well regarded pros, including the planner, photographer, officiant, florist, musician, etc. Be familiar and adhere to the established time-line, know the location, delegate as much as possible, keep everyone updated and arrive stress free for an awesome wedding! It WILL make for better photography!
If we can assist, get in contact with me, Scott. And be sure to glimpse at our website, Hughes PhotoGraphics Maui.